The settings:
It isnt everyday that mcdonald closes one of its outlet for something special. And today it was my pleasure to be invited to be one of the pioneer diners for this whole new menu they are going to launch soon.
And the MC of the night also mentioned that it was partly due to the place just being renovated.
All participants had to register and were given a small name tag with your name inprinted on it
Well well well what do we have here?
A setting you would have expected of a restaurant, there is something with black tissues that makes it look classy. The lighting was great too, the kind of atmosphere where you could have a dinner with your love one, a gathering or even a causal meal in one.
A look at the menu
Check out some food for thoughts from the VP of marketing and our chef of the day Irene Jansen.
She mentioned something interesting that i really agreed. Can you believe that Mcdelivery was only available in 2005. Prior to that there was no 24hrs delivery in singapore, imagine the inconveniences we would all have lose if there wasnt any 24hrs delivery. But yet it seems such a long time ago due to the fact that mcdonalds have always been a ever present restaurant to us with their continuous marketing and flyers promotions.
Every table had a 'cup' of white roses :)
The pre dinner speech and sharing, there were a few parties invited. From bloggers to winner of mcdonald facebook contest, hardwarezone the "makan" zone and mcdonald own private invitation.
Finally the food!!!!
The fish is actually fillet o fish meat. My personal favourite, as for the egg it is used from their breakfast eggs. Steamed with corn at the base, it was a very light starter. Picture a western chawamushi and you will get the taste, though the fish did give it a good bite, corn at the base was crunchy and fresh too!
Fresh Salad Green
In the past whenever i was eating their burgers with veggie the fresh lettuce is always a standout. And today we have a pure taste of the ingredients. With a side thousand island dressing, this dish clear your taste bud and leave it with a refreshing feeling for the next course.
Finally the star of the day,
The Teppanyaki Mcgrill Burger
This is by far the best burger i have eaten in mcdonald, the sourdough bread was the hidden star. It offered a very firm hold but yet soft and chewy. In term of meat cooking and marinating there is alot of stalls that can do a good job, but now mcdonald using this bread brings this burger up another level. Its like subway, the choices of meat is as important as the taste and texture of the bread you eat.
With a dash of bbq sauce, this truly brings up the mark in the looks department
And instead of chopped lettuce, another simple yet good change is that they use one fully slice lettuce.
The perfect brownish charred meat
Who can forget their trademark fries? when i saw the menu and didnt see the fries to be honest something inside me died, i was really expecting it. Luckily shortly after the main dish they send it up with a very nice plating.
Apple Yogurt Trifle
Mcdonald vanilla ice cream topped with strawberry sauce, apple dippers, cinnamon powder.
Tasty treat! The yogurt was just fantastic, the nicest dessert i tried in Mcdonald. Ice cream are sweet and too much of it would make you sick of it. But with a good shot of yogurt in it, there is a very good combination of sweet and sournesss in it.
Elevating your senses in a good way. I didnt have enough of it at the end :(
Mcafe cappuccino, standard taste .
Before we left, the mavellous staff of mcdonald gave each of us this collectible which added the final spark of a wonderful night. After this meal, i realised why after so many decades and such massive expansion all over the world mcdonald is still the number one.
Not only does it make and ensure good food, the management, logistics, crew and sales staff are equally proficient!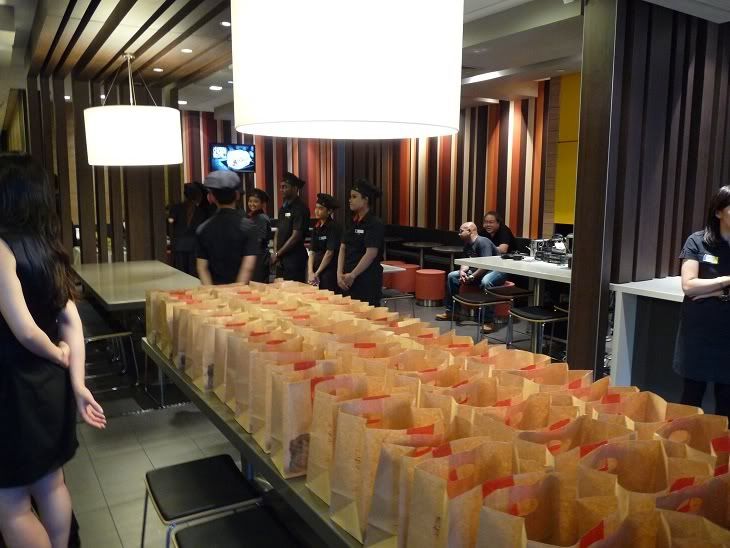 This shot belongs to TW14 of HWZ, i 'borrow' from him. Thanks ah terence:P